Kari and Gatomon



Kari and Gatomon have a really special relationship. That's because of their story. Gatomon was separeted from others digimon when they were all still in DigiEgg. As Nyaromon she waited for Kari all alone. When she finally evolved to Salamon she decided to go looking for Kari. She didn't have any luck but she was found by Myotismon who beat her all the time. She evolved in Gatomon and became one of Myotismon team. Her only real friend was Wizardmon who died for her. Gatomon and Wizardmon helped Myotismon with looking for the eight digidestined. After all these years Gatomon forgot what was she waiting for. But when she saw Kari she remembered that she was waiting for her partner. Because of that Gatomon betrayed Myotismon and helped Kari and other digidestined.
Kari and Gatomon became really good friends immediately. Gatomon always protected Kari ... when she was sick or when there was an evil digimon after her (after digidestined).
In episode 53 when their crests were destroyed and they though they were defeated Gatomon didn't believe it. Because what would be the point of searching for Kari?
Gatomon: We can't let ourselves be defeated here. If we do, then what was the point of my search for Hikari all this time?
Kari: Tailmon ...
Gatomon: I've been waiting so long for the day when I could meet you and protect you, Hikari. *
In the last episode when digidestined had to go back home they were saying goodbyes to their digimon. Kari gave her whistle to Gatomon.
Gatomon: For me?
Kari: Yeah!
Gatomon: Thank you.
Kari: It looks very good on you.
Gatomon: Really? Well ... take care ... Hikari
Kari: Yeah. Until next time.
Gatomon: Next time?
Kari: Yeah that's right! **
In season 2 their relationship is still as good as it was in season 1. In episode 13 when Kari dissapeared Gatomon tried to find her together with T.K.. They were all really scared for her, but Gatomon knew that Kari is going to be okay because she isn't weak. She is strong because of the family and friends she has.
Gatomon: Hikari isn't weak. Hikari is strong. But that's because she has friends who help her. ***
* - Digimon Adventure 01; Episode 53 - The Final Dark Digimon
** - Digimon Adventure 01; Episode 54 - A New World
*** - Digimon Adventure 02; Episode 13 - The Call of Dagomon
Holy ring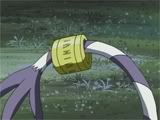 Holy ring is a golden ring which is worn by Digimon (just a several one, not all of them). The ring gives the Digimon (who wears it) the power which is related to it's holiness. But if Digimon loses his holiness it also loses his Holy ring. Gatomon wears it's holy ring on her tail. That's why she also mention it as tail ring. This ring gives Gatomon great power. She is more powerfull. With the ring she is so strong as champion level, but without it she is strong just like the rookie level.
Gatomon loses her ring in the first episode of season 2. She was running away from Unimon (who was possesed by dark ring). Gennai returns the holy ring in the last episode of Digimon 2 and explains them that he used the holy ring for the DNA evolution.
Gennai: The Holy Ring was used to control the power of darkness in the Digimon Kaiser's fortness. It was left behind and I used it for the Jogress evolution.*
And also Salamon has a holy ring around his neck.
* - Digimon Adventure 02; Episode 50 - A Million Points of Light
Digivolution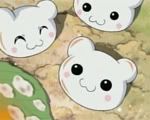 Name:
YukimiBotamon (Snow Botamon)
Level:
(Baby) Fresh
Type:
Slime Digimon
Digivolves from:
Digi Egg (pink/red egg with dark pink/red circles)
Digivolves to:
Nyaromon
Voice Actors:
(JAP.) Hanioka Yukiko ; (ENG.) / ;
Attacks:
Diamond Dust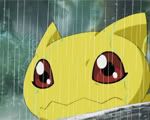 Name:
Nyaromon
Level:
In-Training
Type:
Lesser Digimon
Digivolves from:
YukimiBotamon
Digivolves to:
Salamon
Voice Actors:
(JAP.) Kobayashi Akiko ; (ENG.) / ;
Attacks:
Tail Whip, Galactica Magnum Tail, Atomic Bomber Tail
Name:
Salamon
Level:
Rookie
Type:
Mammal Digimon
Digivolves from:
Nyaromon
Digivolves to:
Gatomon
Voice Actors:
(JAP.) Yoko Asada; (ENG.) Edie Mirman;
Attacks:
Puppy Howling, Petty Punch, Sledge Crash.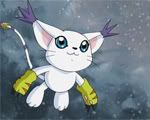 Name:
Gatomon
Level:
Champion
Type:
Holy Beast Digimon
Digivolves from:
Salamon
Digivolves to:
Angewomon
Voice Actors:
(JAP.) Yuka Tokumitsu; (ENG.) Edie Mirman;
Attacks:
Lightning Claw, Neko Kick, Cat Tail, Neko Scratch, Cat Laser, ...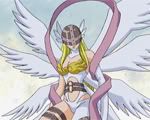 Name:
Angewomon
Level:
Ultimate
Type:
Archangel Digimon
Digivolves from:
Gatomon
Digivolves to:
Magnadramon
Voice Actors:
(JAP.) Yuka Tokumitsu; (ENG.) Edie Mirman;
Attacks:
Celestial Arrow, Heaven's Charm, Holy Air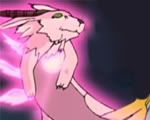 Name:
Magnadramon
Level:
Mega
Type:
Holy Dragon Digimon
Digivolves from:
Angewomon
Digivolves to:
/
Voice Actors:
(JAP.) Yuka Tokumitsu; (ENG.) / ;
Attacks:
Fire Tornado, Dragon Fire, Hermit Fog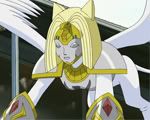 Name:
Nefertimon
Level:
Armor
Type:
Holy Beast Digimon
Digivolves from:
Gatomon + ArmorEgg of Light
Digivolves to:
/
Voice Actors:
(JAP.) Yuka Tokumitsu; (ENG.) Edie Mirman;
Attacks:
Rosetta Stone, Queen's Paw, Beam of Isis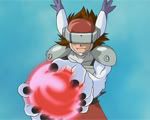 Name:
Silphymon
Level:
Ultimate
Type:
Beast Man Digimon
Digivolves from:
Gatomon + Aquilamon
Digivolves to:
/
Voice Actors:
(JPN.) Yuka Tokumitsu, Koichi Tochika (ENG.) Edie Mirman, Neil Kaplan
Attacks:
Rosetta Stone, Queen's Paw, Beam of Isis